Delta Circle Deep Listening Group, Netherlands. 25 - 28 October 2020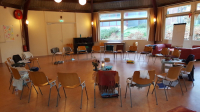 This is an ongoing professional training to deepen our communication skills in Awareness Centred Deep Listening. This training also provides opportunities for personal growth. It is offered annually in the Netherlands.

Requirement: participants need to have completed a four-day Level 1 Deep Listening Intensive. 
Arrival: Sunday 25th 8:00 pm. Fee approx. €350.00 - €375.00 
The course is now fully booked. If you would like to go on the waiting list please contact Harriët Messing This email address is being protected from spambots. You need JavaScript enabled to view it.
Accommodation in shared rooms on site is included in the fee. If you require a single room, please book a B&B at your own expense.
Further details from: Harriët Messing This email address is being protected from spambots. You need JavaScript enabled to view it.