Elders' Group, Netherlands. 30 October - 1 November 2020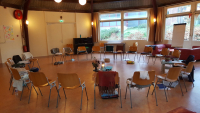 This is a three-day ongoing annual course of Awareness Centred Deep Listening Training open to those who have been following this programme for several years. Training material around a chosen theme will be covered, supported by interactive discussion and experiential exercises, looking even more deeply into the process and dynamics of the listening relationship. A new theme is followed each year after consultation with members of the group.
If you would like to know more about this or similar courses please contact Rosamund Oliver via This email address is being protected from spambots. You need JavaScript enabled to view it.
The course is held at De Clinge, Schapedrift 7, 9483 TT Zeegse, Netherlands.
The course is led by Rosamund Oliver.