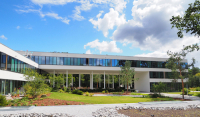 This five-day course is a complete practical training in using the transformational method of Awareness Centred Deep Listening, ACDLT®, designed by Rosamund Oliver, which harnesses the life-changing potential of bringing simple awareness to listening.
This training, known as "Deep Listening 1" in Germany, is hosted by Sukhavati, Spiritual Care Centre, Bad Saarow. You can book directly with them at REGISTER below. This will take you to another website. Their website is in German. Training is given with both German and English translation.

This training is given by Rosamund Oliver and Jens Pingel.