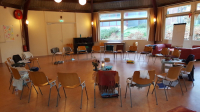 This is an ongoing Deep Listening Training which can be taken to further deepen our skills in Awareness Centred Deep Listening and for personal growth. It is offered annually in the Netherlands for those who have completed a Level 1 or level 2 Deep Listening Training. There are only two places left.
Arrival: Sunday 27th 8:00 pm. Price approx. €350.00.
Accommodation (shared rooms) included onsite or in nearby B&B's at own costs if single room is needed.
Further details from : Harriët Messing clingedeeplistening@gmail.com